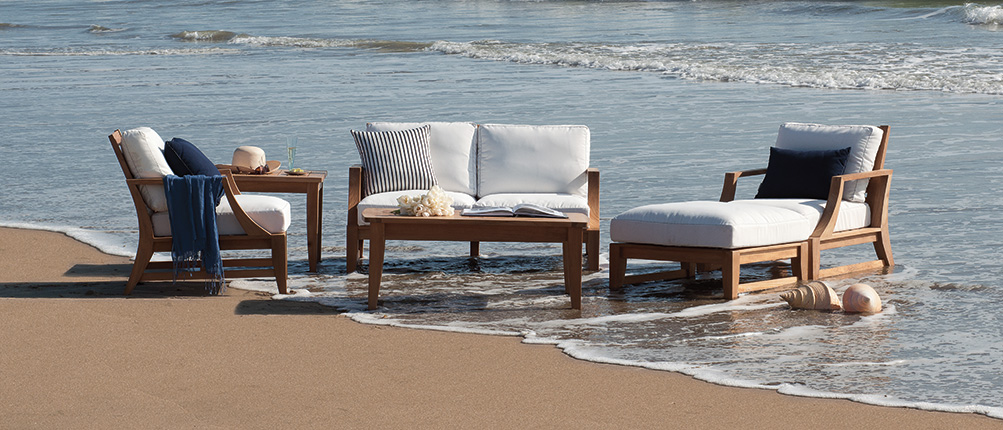 WHAT IS COVERED
JANUS et Cie warrants its products to be free from manufacturing defects for a specific period of time to the original purchaser. This warranty is exclusive to the original purchaser with proof of purchase. Proof of purchase (Original Sales Order) should indicate the name of the original buyer, date, and all product numbers.  Proper maintenance, including routine cleaning, replacement of worn glides, lubrication of mechanical parts and removal of products in high winds or severe climates is the sole responsibility of the owner/user and is required in order to keep this warranty in effect. Please follow your JANUS et Cie Care & Maintenance Manual in the care and upkeep of the product(s). The maximum liability is the purchase price of the failed item in the form of a credit to replace or purchase new product(s).
WHAT IS NOT COVERED
This Limited Warranty does not apply to damage resulting from normal wear & tear, handling, improper maintenance, abuse, accident, alteration or tampering.  Cushions, fabrics, pillows, COM fabrics, and glass are not covered by this warranty.  Repair or modification by anyone other than JANUS et Cie or an approved agent voids the warranty.  JANUS et Cie makes no additional warranty, either express or implied, written or oral, regarding any warranty of merchantability, title, or fitness for a particular purpose.  Additional exceptions may apply. Freight damage is not covered under our JANUS et Cie Limited Product Warranty.  Please review our Freight Inspection Guidelines should you need to file a freight claim.
WARRANTY STARTS ON THE DATE OF SHIPMENT
Masters Aluminum Series Frames*: Lifetime
Furniture Frames*: 3 years
Accessories: 1 year
Umbrellas & Bases: 1 year
Rugs: 1 year
*Components such as fabric & chair feet are subject to wear and tear and are not considered part of the frame.
GLASS, STONE, AND MARBLE TOPS
Stone and Marble tops are handcrafted from natural stone, which is a product of nature.  The actual shade of each stone and grain movement are unique and may vary in color.  These natural color variances are not covered under warranty.  Glass, Stone, and Marble tops need to be inspected at the time of delivery.  A signed Proof of Delivery accepting the product in good condition constitutes the product was received in good condition.  Glass, Stone, and Marble tops will only be replaced upon JANUS et Cie's approval based on defects.
WINTER STORAGE
During the winter, all furniture should be stored indoors in an upright position to allow for proper water drainage. Storing furniture upside-down may cause water to accumulate and freeze inside the frame, causing serious structural damage that is not covered by warranty.  Defects that develop due to extreme climate conditions are not covered by this warranty.
SPECIFICS
JANUS et Cie, upon its own review of the claim and circumstances, may repair or replace the product or provide parts to satisfy the claim, at its discretion.  If it is determined that a replacement is required, the original warranty period remains, starting from the original date of shipment lasting three years.  JANUS et Cie will provide you with a return authorization number and instructions upon a final determination that the claim is valid.  Only when agreed upon in advance will JANUS et Cie pay any charges related to shipping, transportation, repair, or replacement of product under warranty review.
JANUS et Cie will make every attempt to complete the warranty repair or replacement within our standard shipment lead-times and current production capacities.
Note: JANUS et Cie or its suppliers may discontinue any component part such as fabric, paint, etc. at any time.
JANUS et Cie LIMITED WARRANTY – TERMS AND CONDITIONS
TO OBTAIN WARRANTY SERVICE
If you suspect a manufacturing defect, photos (digital are preferred) of claimed products must be submitted to the attention of JANUS et Cie Warranty Department prior to any judgment regarding defective items, along with a written description of the defect and any related circumstances thought to have caused the defect. No items will be accepted without prior written approval from JANUS et Cie.
After receiving a return authorization number from JANUS et Cie, return the product packed in its original carton (or equivalent) to the JANUS et Cie Warranty Department at the address shown below. Place the return authorization number prominently on the outside of the package. Returns not bearing return authorization information may be refused. Please include a copy of your dated invoice, keeping the original invoice for your records.
JANUS et Cie
Attn: Warranty Department
12310 GREENSTONE AVENUE
SANTA FE SPRINGS, CA 90670
800.24.JANUS
At JANUS et Cie, our goal is to provide products of exceptional quality to our clients with unsurpassed service. While we cannot warrant product against normal wear and tear or abuse, we pride ourselves in handling all true manufacturing defects swiftly and fairly.